A window of opportunity where players are groomed and elevated to an international level to play and embrace different opportunities within the sport. Scholarships, semi pro and professional.
OurKids Academy have help many kids excel at their athletic ambitions. 
"I started working with the program in grade 9, to be exact 2011 and it's one of the best decisions that I've ever made in my entire life. Where else would I be able to find a program that actually takes the time to assist in working on not only soccer, but your attitude as a player as well your well-being as an individual and achieving the most academically? 
I mean it has assisted me in providing many opportunities such as leadership development as well as allowing me to achieve a scholarship to study and play soccer in the states.  Mr. Comrie groomed me to become the person I am today as he always emphasized the importance of being a well-rounded individual. This has helped me to transition into my university life. Currently, I am a residential assistant supervisor, student senator and the captain of the women's soccer team here at the University of Maine at Fort Kent while maintaining a GPA of 3.6. I have been in attendance of the University of Maine at Fort Kent since 2016 and I am set to graduate in May 2020. 
Through the program, I was able to develop and maintain a balance work school and soccer. It has also assisted in showing the importance of hard work and determination. I am the 3rd of 8 children and the first to finish high school and the first to attend university. This may not seem like an accomplishment to most, but it has assisted in motivating my siblings in knowing that there is more out there and they can do anything they set their minds to."
"Our Kids Academy is not just your ordinary football academy. It's your second family. There are countless life lessons that coach Comrie taught us each day. The importance of teamwork, communication skills, team building, working with others and so much more. It's a safe place where you can be yourself and express yourself. It opens a world full of opportunities.
I never dreamt I'd be overseas studying and playing football, now I'm in my 3rd year of nursing school and playing football. OurKids Academy not only changed my life but changes the lives of everybody who has been a part of the program." 
"My encounter with both this academy and Mr. Comrie has effectively changed my life. Through the OurKids Academy, I have improved my game tremendously and it has opened doors for me. Without the help of the academy and Mr. Comrie, I may have never gotten the chance to earn a scholarship for football and for that I am forever grateful."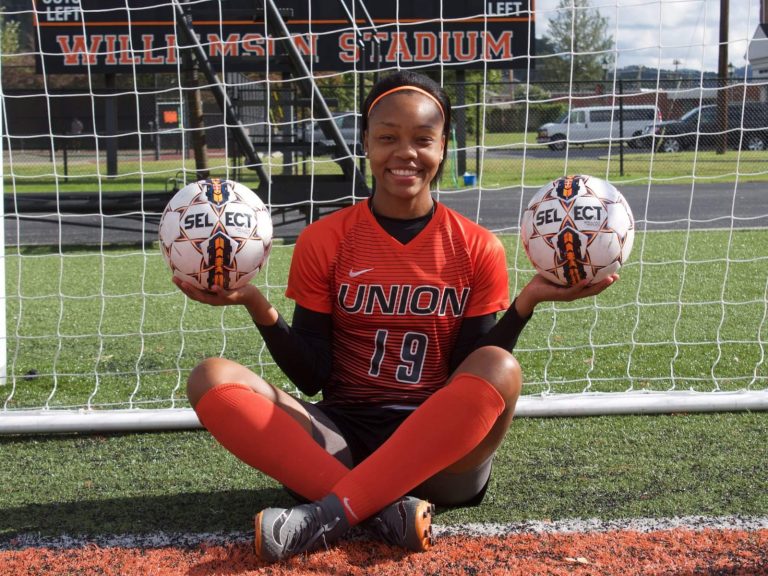 "I shall pass this way but once…" These are the lines from a poem that I learnt when I was in grade 5. Never take for granted the opportunity that you have today. Life does not always give you a second chance to start over. All I wanted was one chance to get my foot in the door. Coach Comrie made the connection that gave me the opportunity of a lifetime. I took full advantage of that opportunity and today I'm a Certified Athletic Trainer. Thanks to Coach Comrie who played a key role in the pivot point of my life .
Hey coach its Rockesha, just here to inform you that I'm at Wilmington University. I would like to Express my gratitude to you for everything you have done for me and still doing. I'm really and truly appreciate everything… I really appreciate every drop of effort and all the stuff you taught me and I will definitely showcase them. Thank you for believing in me. Once more I must say a big thank you to you and I promise to make you proud.
Lots of love and respect
Every time I'm asked to write one of these testimonials it takes me a really long time to figure out what to write. Not because I don't know what to say, but because I have so much to say and I don't know how to surmise it and while showing how I feel. Our Kids Academy has played a huge role in shaping me into who I am today. Being a part of the program has taught me how to control both my emotions and my tongue. I was a very angry teenager and the program taught me how to channel that anger into the game of football.
Football was not the first sport I played, but it is the sport that I love playing the most. This is because of the program and the people I meet while I was a part of the program. Besides being able to control my anger, being a part of the program provided me with a scholarship opportunity that has allowed me to attend a University in the United States. I am currently on my final year as both an athlete and a student. After completing my program, I intend to pursue my master at another institution.
Our Kids Academy isn't just about athletic performance, it's about helping the youngster to find themselves and the path they want to take in life. It's about allowing these same youngsters to realize that they are worthy of love and that they themselves can make a difference. It's about helping us to realize that we have a future after football. It's about realizing that we can be smart and be an athlete.